Timers
C840 Professional Timer.
This is a state of the art timer providing a wide range of advanced features, including countdown timer, two-phase timing, results calculation and electronic bell (see specification sheet for more details).
It is powered by an internal rechargeable battery or can be connected to an external 12 volt battery or a mains supply using the adapter provided.
K531 Wire-Free Gate.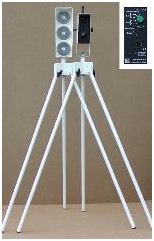 This head uses a radio transmitter instead of a cable to connect to the timer. There are no cables to lay so changing the course is much simpler!
There are two channels, enabling two rings to be used side by side.
The head is powered by internal rechargeable batteries which give 24 hours continuous use between charges.
The range of the radio signal is 200 metres (line of sight). The maximum distance between head and reflector is 30 metres. The heads can also be connected to the timer by cable if required.
Legal for use in Europe without a site licence.